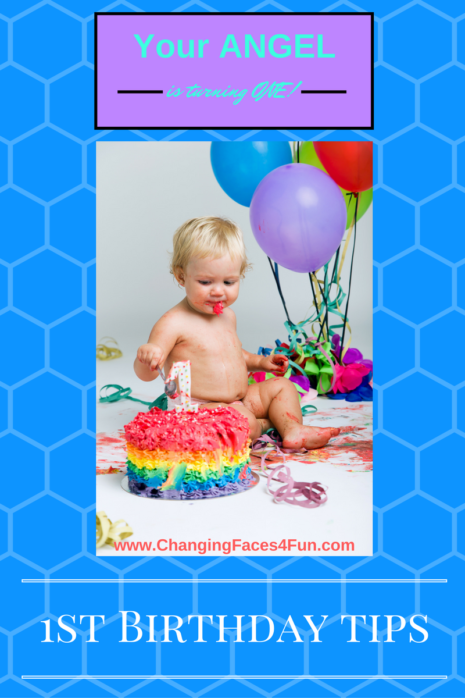 1st Birthday Party TIPS from an Event Planner
Posted by Changing4Fun
On 11/08/2016
0 Comments
1st birthday party, 1st birthday party tips, birthday party entertainment, child's birthday party entertainment, clown entertainment, clown in Baltimore MD, clown in York PA, face painting entertainment, face painting in Baltimore MD, face painting in York PA
I had a conversation with a prospect today about her baby's 1st birthday party!  It reminded me that almost every party inquiry we receive for a 1st birthday party is identical. Parents want the whole package – balloons, face painting, magic, and the entertainer MUST be in Clown costume. Not only that, but the entire family, friends, and all the neighborhood children are invited, with sometimes 30 to 40 children. WAIT!!!! This type of party becomes expensive and overwhelming. Take a step back and consider that for the 1st birthday party, none of this makes any sense and is sensory overload. Realistically, one year old parties are for the older children and grown-ups to celebrate. Although you will have wonderful photographs to commemorate the event, the birthday child barely gets to participate in the activities and he or she will never remember it.  Today, thankfully the caller was open to my tips and we planned the perfect entertainment package for her angel's upcoming 1st birthday party.  The following is what was shared with her:
Our recommendations for the 1st BIRTHD PARTY:
HOME PARTY – A smaller, intimate party with close family members and friends at home is ideal and more budget friendly for the 1st birthday party.
TIME FRAME – Keep in mind that babies and toddlers get over stimulated quickly and they can't handle too much.  Therefore, limit the party to 2 hours or less so you, your child and guests end on a positive note.  We believe in "Party til' you Drop" but not with wee little ones!  Keep it short and sweet!
ACTIVITY for KIDS – Consider leading a craft for the children or hire a professional to entertain them with FACE PAINTING, where the older children can receive a work of art, and the birthday boy or girl can get a little cheek/hand art design. Please keep in mind that a Clown costume is NOT necessary here, and please note that many children at this age are intimidated by any costumed character.
CAKE – Yes, the cake is an IMPORTANT part of the party and one of the highlights.  This is one area we tell our clients to go ahead and splurge.  However, while Smash cakes are all the rage with the 1st birthday, we suggest you consider getting a smaller version of the cake in the form of a cupcake.  Remember even cupcakes can get smashed to smithereens and they're a little easier to clean up!
DECORATIONS – Decorations make any space Fun & Festive!  To help you with this choose a theme and carry it throughout to make it cohesive.  The theme will also help you easily select the color scheme. Simply select the two main colors and one accent color that are represented in your decorations (ie., Spiderman – Red, Black and White).  Remember LESS is MORE and to spend wisely focus on the area which will give you the BIGGEST IMPACT!  What area is that?  Well, we're glad you asked ….. it's the Cake/Treat Table!  We have found that BALLOON DECOR and table centerpieces/tablescape makes it Colorful, Festive and Fun!
NAP – WARNING:  Don't break your baby's nap routine!!!! Having a well rested baby will make the party so much more enjoyable for EVERYONE!  Therefore, time your party around your child's nap time.
PHOTOS BEFORE GUESTS ARRIVE – Be sure to take some great photos of your BABY, the CAKE & DECORATIONS before your guests arrive.  Frequently, we see that our clients are so busy hosting their party that they don't have a chance to get some great photos.  Snap great photos of your child before they get dirty (or cranky), of that spectacular cake before it's cut, and the festive atmosphere before the children reap havoc.  You put a lot of effort into this celebration and those photos are MEMORIES for you and documents one of your child's milestones, the 1st year!
OUTDOOR PARTY BACKUP PLAN – It never ceases to amaze us how our clients forget this major detail!  Please, Please, Please have a backup plan (PLAN B) if you plan on having your birthday party outdoors.  Consider that there may be EXTREMELY HOT temperatures, a summer thunderstorm, or unseasonably COLD temperatures for those early fall outdoor parties.
Planning your child's 1st birthday party?  Call us today to receive your COMPLIMENTARY Party Planning Consultation at 717-717-751-1720 or visit the Parties page on our website to view the party entertainment packages.  It would be great to hear from you and we LOVE PARTIES!